Clothing and Accessories
The Ames Society has arranged to have clothing and accessories made available to our members. You will also be able to use the Ames Society logo on many of the items. Choose from woven shirts, polos/knits, caps, bags, blankets, robes, towels, aprons, fleece, etc. Also available are non-embroidered items, such as shirts/active wear, pants, shorts, and infant/toddlers apparel. If you wish to personalize by adding a name, or would like items without embroidery, simply specify when ordering.
Click here to order items directly from the vendor.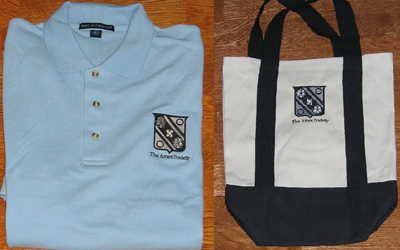 Key Ring
This key ring made of quality plastic from Australia. On one side, there is the Ames/Eames coat of arms. The other side has our website address. If you ever lose it, anyone who found it may inform us and we will then notify all the key ring owners of a "lost and found" and you can retrieve it.
Cost of $7.50 each.
Number of key rings desired: